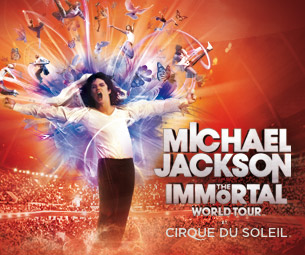 Last night I went to the premier showing in the US of the Michael Jackson Immortal World Tour! And let me tell you, I had the time of my life.
First off, to get a few things clear and out-of-the-way, I am an eighteen year old avid Michael Jackson fan living in a practically unrecognizable spot in Michigan. Because of this, opportunities for me to experience an event surrounded by Michael Jackson and the Michael Jackson community have been out of reach for some time. I've made plans to visit Neverland, but that won't be for another year. So you can imagine my excitement at Christmas last year when I received two tickets to the US premier of Michael Jackson: The Immortal World Tour!
To my surprise, the Saturday, October 15, 2011 8:00pm Detroit showing was the first live showing in America and I had the pleasure of being one of the lucky ones who got to experience this! The one thing that stood out to me was the atmosphere of the arena where the show was being held; it had a most magical feeling. Once you saw who– what kinds of people had come out to see this show, it somehow put faith and inspiration into you. As you may have already guessed, people from all ages, ethnicities, backgrounds, and countries dressed in some article of MJ clothing, a full-out MJ costume or just an MJ t-shirt. People came prepared to scream Michael's name!
The show in itself was utterly amazing as well. The theme of love was a focal point and you could certainly feel the love for MJ there. As the images of Michael flashed on the giant screen ahead of my nicely picked seat, an overwhelming feeling of "this is what I've been waiting for" came about me and I began to get teary-eyed. The show had barely started yet.
Of course, throughout the show, I got teary eyed and hooped and hollered more than once. It easy to see how even the toughest and most emotionally sound could shed a tear or two. The entire production was beautiful down to every last detail. I am truly grateful for having the opportunity to experience the magic of Michael's inspiration to those around the world.
One other thing that was somewhat surprising to me, was the playing, or teasing, as I like to call it, of some songs that I would not expect to be played in large forums like that because they have not been released. And by this I don't mean never before heard songs to someone like me, but songs that don't get much airplay from, for example, the HIStory album (i.e. Little Susie, Tabloid Junkie). That was cool because it was unexpected. In accordance to that, it was nice to see the people who were slightly hesitant, at first, to continue their hard-rockin' groove to throughout the songs they may not have known all that well. That was no matter for them though; it was one-hundred percent Michael Jackson, and that's all that mattered.
The entire show, along with the atmosphere, created an indescribable experience, which left you wondering just one thing– What would it have been live if Michael were there? Of course, for someone like me who will never get the opportunity to see Michael live and in-person, it will suffice for now.
I can't help but wonder.
I strongly recommend for anyone and everyone to go and see the full Cirque du Soleil Michael Jackson The Immortal World Tour as soon as possible. It  is worth every dime.